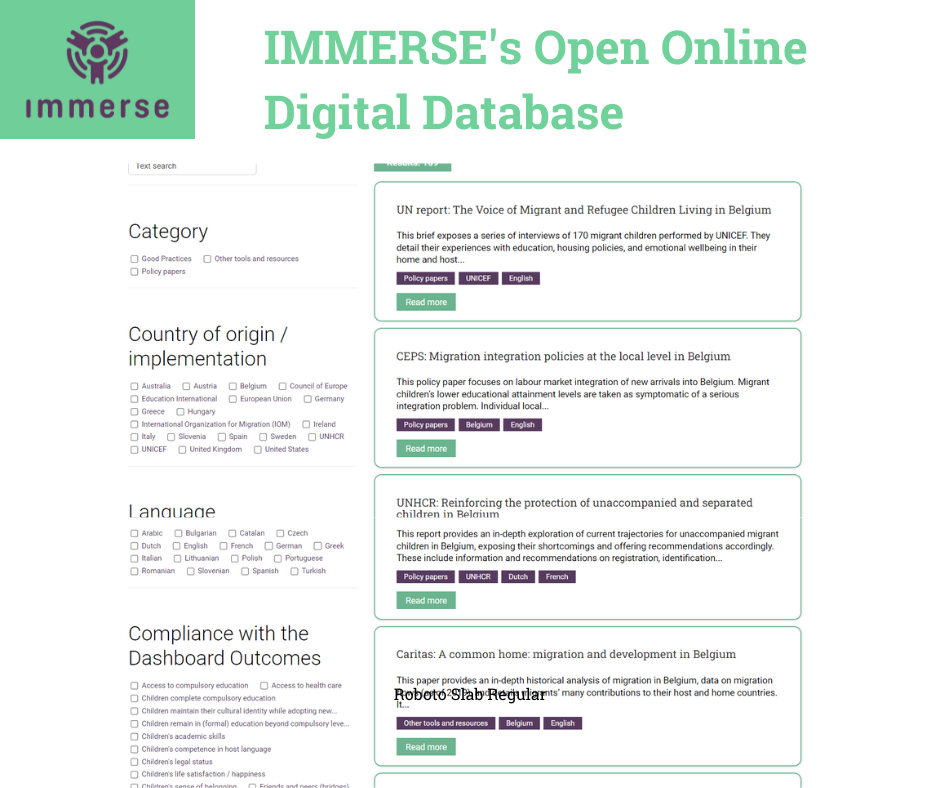 IMMERSE has launched its online database with more than 100 resources aimed at identifying supportive environments, educational conditions and practical materials addressed to school leaders, teachers, educators, and social professionals involved in the socio-educational integration of refugee and migrant children.
The platform, available on the website of this Horizon 2020 project, contains an exhaustive compilation of 60 good practices, and 49 policy papers, projects, methodologies, pedagogical approaches, resources, and tools that provide an interesting overview of local, national, and European initiatives aimed at migrant and refugee children's socio-educational inclusion and contribute to the development of a set of recommendations addressed to decision makers and the educational sector.
The database offers a navigation menu to search for resources according to four criteria: resource category, country of origin or implementation, language, and conformity with the results of the IMMERSE Dashboard. The database also allows to search for resources by words and concepts chosen by the user typing any text in the «Text search» space.
The creation of a compilation of resources accessible via a digital platform open to all users, is one of the IMMERSE innovative digital objectives. The aim is to facilitate the research of stakeholders dedicated to socio-educational inclusion for refugee and migrant children in Europe, ultimately promoting the development of inclusive and cohesive societies.
The ODD is available in Dutch, English, French, German, Greek, Italian, and Spanish.
Explore the IMMERSE Online Digital Database here.