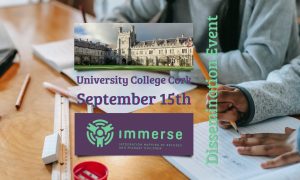 University College Cork will held an event on September 15th to share the Immerse H2020 project findings on the integration of migrant children in the Irish education system. The event will take place at the UCC premises with the participation of The Institute for Social Science in the 21st Century.
The registration is now open and all the details are available at this link. Even so, the event will be broadcasted through Immerse YouTube channel for those who cannot attend. You can subscribe to the channel here.
More dissemination events will take place in the coming months in the different European countries of the project cluster members. Stay tuned to Immerse social networks!